Higgins
Norris

I'm confident I don't need to fill out beyond this. Higgins will need my vote.
chemicals wrote:Higgins has it
All over bar the shouting...
Beebub wrote:

chemicals wrote:Higgins has it

All over bar the shouting...
or in Dana's case all over bar the prayers
والقس هو مجنون
I can't believe Sean Gallagher did so well. I got worried when quite a few people told me he was their first choice and then hearing the progress this morning. I'm a little baffled.

But anyway, I'm happy with Higgins winning.
Posts: 188
Joined: Mon Mar 14, 2011 6:15 pm
Location: Bray, Co. Wicklow
Contact:
1) Higgins - because I think he'll do the job well.
2) Norris - because I like the cut of his jib.
3) Davis - because she's vanilla enough for the role.
I voted No on both referenda.
I think the state has more than enough power to conduct investigations as it is. It's we who watch the watchers.
While I think that judges are already paid quite nicely, it's hard to avoid the way that wealthy people guard their wealth, or the lengths they will go to to safeguard it. It's a stretch to imagine the wholesale control of judicial opinion for fear of a pay cut, but I still think that
any
mechanism by which the Houses could exercise control over the judiciary is a bad thing.
Pedantic side note:
Oxford English Dictionary wrote:Referendums is logically preferable as a plural form meaning ballots on one issue (as a Latin gerund, referendum has no plural). The Latin plural gerundive referenda, meaning things to be referred, necessarily connotes a plurality of issues.
As yet I have not found a single case of a terrestrial animal which fertilises itself.

- Charles Darwin, The Origin of Species
(he obviously never went to Bray)
Classic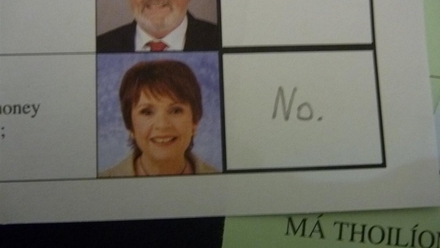 والقس هو مجنون
Atheist Ireland Member

Posts: 1280
Joined: Tue Apr 29, 2008 6:04 pm
Location: Co. CORK
Contact: